I have no idea what is in style.  I am not a fashion expert (even though I'm well read* on the subject), nor do I claim to be, but it's so much fun to put together outfits.  My closet is mostly made up of thrifted, gifted, and handed down clothing and I love it.  I am a very picky shopper and I like to collect special pieces that I can wear in a variety of ways.  One day I would like to learn how to make my own clothes, and revamp clothing like Coolirpa does, but for now you'll find me headed straight for the clearance section.
*If you decide to get this hilarious book, I'll receive commission  : )



Grey Strappy Swimsuit
 It is very difficult to find swimsuits that cater to my size.  I have yet to find one that fits me well in all places and holds everything in, at least at a reasonable price.  It limits my options, but this simple swimsuit is cute but sexy, and I love the extra straps.  Additionally, the bottoms look like they will actually cover everything and are included with the top (Who decided swim pieces needed to be sold separately???).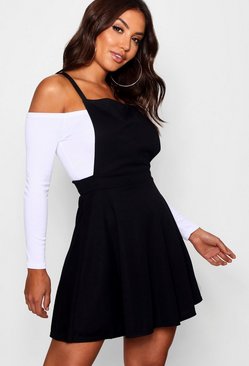 Pinafore Dress
This dress may resemble an apron, but I don't care.  It would be a very versatile piece to have, and easy to accessorize with.  Bonus, I could get away with wearing it year round if I styled it right.

White Asymmetrically Hemmed Dress
It terrifies me that this dress is white and I can only imagine the stains awaiting it if it ever becomes a part of my closet.  Regardless, I love the way this dress flows, and it would be super easy to style.

Detailed Harem Pants
These pants look super comfy, and comfort is the most important thing to me when I dress.  I hate wearing outfits I'm constantly adjusting, or skirts I have to pull down repeatedly.  If I'm in a dress or skirt, I will always have yoga shorts underneath it, because frolicking shouldn't be limited by your outfit.  I don't currently have any harem pants, and I need to get my hands on a pair of these as well as a pair of palazzo pants.
Silver Leg Chain
One day a couple of years ago, I was raiding the clearance rack and found a leg chain for $5.  Of course, I snagged it and had no idea how much I would end up wearing it.  It's broken now, but I fixed it and made it work as long as I could, through the use of safety pins, ribbon, and my trusty glue gun.  I got compliments on it all the time, and it added a lot to my outfits.  I would love to have another one to wear out in the same manner.
Gold Hair Crown
This is just beautiful, and it would add a little extra something to any outfit.  I love how Sunaina added an elastic headband, because these things are not easy to keep on sometimes.
I didn't expect to write this post today, but I had fun doing it.  Now I'm off to catch up on life, decorate my dreads, and create some things for myself and for you on Etsy.  What are you excited to wear this spring?
☮ Madison